In The Classroom
Our book Melvin The Friendly Bedtime Monster is ideal for Learning and Literacy Tables in schools (even up to 1st class), preschools and creches. The story is presented in rhyme, and features vibrant, playful scenes as well as subtly teaching grammatical connotations like alliteration, noun-spotting and more. We will gladly offer a bulk discount on quantities ordered. Please contact us for more information.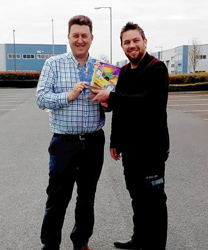 Cornamaddy N.S., Athlone, Westmeath
Cornamaddy National School in Athlone in County Westmeath is just one of the schools that have purchased a batch of Melvin The Friendly Bedtime Monster for the school's library and and for reading in the school's junior classes.
Mr. Aidan Barry, Principal of the school is shown here being presented with a purchased order of books by Seanie Morris for their junior and senior infant class rooms.
"We are delighted to support local publisher, Seanie Morris of Green Beanie Books. Melvin The Friendly Bedtime Monster is a story that deals with children's nighttime fears in a delightful and colourful way," added Aidan.
Read further Testimonials here >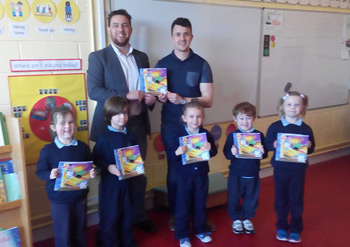 Social Naomh Colmcille, Durrow, Offaly
Social Naomh Colmcille on the esker at Durrow near Tullamore in County Offaly is another school that has purchased a batch of books of Melvin The Friendly Bedtime Monster. School Principal, Mr. Frank Kelly was happy to help local writing and artistic talent. Pictured is author Seanie Morris presenting books to Mr. Niall Larkin, teacher of Junior Infants in the school with some of the pupils.